Kuzyk В . N., Yakovets Yu. V.
M.: Institute for Economic Strategies, 2006. Volume II. Future of Civilizations and Geocivilizational Measurements. — 568 p.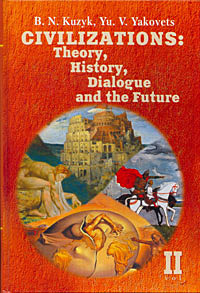 The reader will find an original treatment of the theory of civilizations, cyclical-genetic regularities of their dynamics, dialogue and interaction, substantiation of historic time co mpression law. In a civilizational aspect the demographic, natural-ecological, technological, economic, socio-political, spiritual factors of development of society are investigated. The history and the future of civilizations are expounded along three historical super cycles. For the first time the cliometric measurements of the global, world and local civilizational dynamics have been made using a geocivilizational matrix and supplemented by a situation analysis, including a forecast of the place of Russia in a geocivilizational space of the 21st century.
Файлы для скачивания
Civilizations – Chapter 14 (621 Кбайт)
Civilizations – Chapter 15 (187 Кбайт)
Civilizations – Chapter 16 (250 Кбайт)
Civilizations – Chapter 17 (180 Кбайт)
Civilizations – Chapter 18 (319 Кбайт)
Civilizations – Chapter 19 (391 Кбайт)